Frequently Asked Questions
Where do you buy tracks?
Check out the
Toys
tab for product names and online retail links.
How do you put the camera on the car?
I bought some Hot Wheels cars and had my friends Cameron and Jessie cut up the "Pharadox" chassis to put a GoPro Session camera onboard.  The camera works well on other cars but I suggest getting the camera as close to the track as possible so that the center of gravity is lower.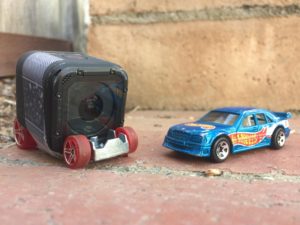 How come my roller coasters aren't working?
If you can find the problem, you can find the solution… Clear the track, check wheels, add or lower height to change speed, build strong supports, take physics lessons, and don't give up!
When will you make another Lego animation / Hot Wheels track / marble run?
I enjoy using many different toys on the channel and can't guarantee when your favorite will return.  However stay tuned because I try to post a new video at least once a month.
Is this your full time job?
This is my main source of income.  However I get paid to help with other internet videos and I'm also working on writing in my free time.
Can I hire you?
Sure, email 
[email protected]
 or use the
Contact page
to get in touch.  Please be specific with what you want from me and I'll let you know if I can help and how much it would cost.
What video equipment do you use?
I currently use the following: Sony VG30H, GoPro Hero 4 Session, iPhone SE, Macbook Air, Adobe Premiere Pro, and a Ravelli Tripod.  If you have a kid who is interested in making videos, I recommend an old VHS or DV tape camcorder that can play footage back without computer editing.
Why do you make these videos?
I love taking constructive play to the next level.  Being creative is one of the best ways to enjoy God's creation.  Although I rarely mention my faith as a Christian in the videos, it motivates my filmmaking and how I explore the world.  Check out more about my story and process in this 
documentary
.
How old are you?
Old enough to get weird looks from people while playing with Hot Wheels in public.
Are you an engineer?
Nope.  Building the tracks just takes a lot of trial and error.  After playing with a track system for a while you get a good idea of what's going to work and not work.
What's your favorite roller coaster?
Magnum XL 200 at Cedar Point.  #2 is Cyclone at Lakeside Amusement Park and #3 is Matterhorn Bobsleds (Tomorrowland Side) at Disneyland.
How long does it take you to make a video?
Building a decent track usually takes several hours.  Filming can also take a few hours if the track is unreliable.  Some videos are made up of different sections filmed over different days.  For stop motion animation, it takes me about a day to get 20 seconds of footage.  Editing also takes several days especially if it's a lot of angles with music and sound effects.
Do you use magnets to keep the car on the track?
No.  Unless you consider gravity a magnet.
Is there still gravity underwater?
Yes.  There is additional resistance, but if it's a heavy object it will still sink.
Where do you get your music?
I get a lot of music from the YouTube Audio Library and royalty free music sites like 
incompetech.com
 but recently my brother 
Mark
 has made a lot of the tracks for my videos.
Where can I buy your book?
How much money do you make?
My current YouTube CPM is $1 for every 1600 views.  So if a video ever reaches 1 million views I would make $625.
Will you ever make a real movie?
If I do it will probably just be a 2-hour chase scene involving trains.
How much track do you have?
About 600 feet of Skyrail marble track and 200 feet of Hot Wheels track… and counting!